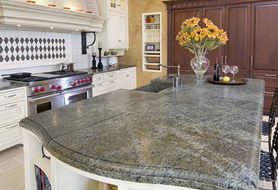 Countertop
Granite countertops are unique in that no two pieces of granite are exactly the same and it adds a richness and texture to your home that is unmatched by any other granite product. The most common uses for granite today are vanity and kitchen countertops. Granite adds an interesting design element to your kitchen and is more durable than laminate countertops. Whether you are remodeling or involved with new construction, granite countertops will make a beautiful addition and increase the re-sale value of your home.
We make any pre-fab counter top and kitchen top as your design. only front double bullnosed,or front and right double bullnosed,or front and left double bullnosed.also with back,right,left back splash.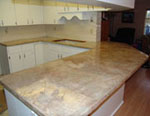 Kitchen countertop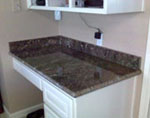 Kitchen countertop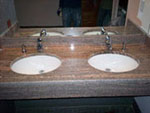 Bathroom vanity top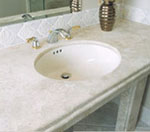 Bathroom vanity top
Countertop materials
Granite tile has always been a favorite choice for use on kitchen countertops, and today it has become very fashionable as a flooring choice as well. You'll find a variety of designer colors (actual stone colors) to choose from. One big advantage of this type of flooring over regular glazed ceramic is that many scratches can be polished or buffed out of it.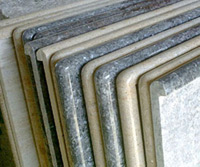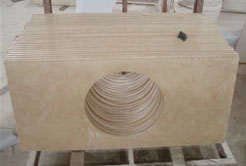 Granite countertops are one of the best upgrades you can do to beautify the Kitchen. Granite has deep beautiful colors that can not be matched by any other type of countertop material, and add warmth, character, and value to your kitchen. It is as durable as it is functional. No need to worry about hot pans burning or melting the countertop, and it will not peal, fade, blister and very resistant to stains
Looking to add a granite countertop in your kitchen or bath but worried it might be out of your price range. It is possible to have a granite countertop without the huge expense. By installing the granite as tiles, instead of a massive single slab, you'll save a very large amount in the materials and installation.
Bathroom vanity top
kitchen countertop
Edge details
YUXIANG can supply Countertops and Vanity, tub surround matching their Accessories such as Stainless Steel sink, Ceramic sink, Faucet, Cabinet,Glass sinks,Copper sinks etc, you can order them together by combined our all products series, that would help save ordering cost and shipping cost, also it is easy for your purcasing, You just only find us, we can help you solute them