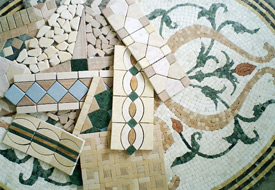 Mosaic
At the most simple definition, mosaic is "a picture or other design constructed from smaller pieces". As well as the subject and style of the design, it is the choice of materials, plus the skill in creating and placing the pieces that contribute to the personal, artistic and practical value of the mosaic.
A special feature is that the pieces are normally solid and durable. The physical qualities of the materials add greatly to the significance of the mosaic. Materials may be reflective or iridescent (glass, gold, mirror). Mosaics can be 3-dimensional, and can incorporate objects and unusual items.
Tiles and mosaics are so closely connected it can be hard to make distinctions. Geometric tile arrangements are mosaics, and many mosaics are made of tiles, whether glass or ceramic. Often the tiles are cut, shaped, patterned or decorated. They may be purpose-made for the mosaic.
Mosic tiles
Mosic pattern
Mosic border